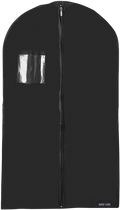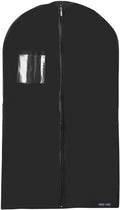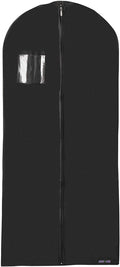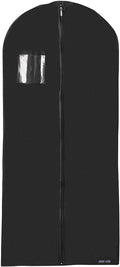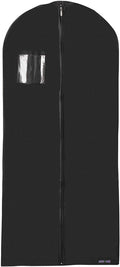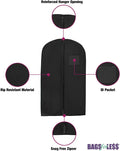 Store And Carry Your Suits With Utmost Care With The Best Travel And Storage Suit Garment Bag
Wearing a suit can elevate your style, adding a luxury touch to your appearance and helping you stand out. 

If you want to preserve your suits in excellent condition and significantly prolong the fabric's life
or you are traveling and want to properly protect your garments, you are at the right place! 

Bagsko presents you with a must have suit storage garment bag which is bound to meet all your demands. 
Unmatched Durability And Sturdy Construction
Forget about cheaply made suit and dress travel garment bags that get easily ripped once and for all! 

This amazing single suit garment bag is made of premium quality, breathable, sturdy, acid-free, non-woven, recyclable polypropylene material that assures maximum protection. 

The durable, water resistant, cloth like material will effectively preserve freshness, allowing you to neatly store, organize and carry your suits when you travel. 

Incomparably Practical Design and Features
Designed with great attention to detail, the BagsForLess exclusive garment bagis the ideal way to make sure that your special outfit looks like you just picked it up 
from the dry-cleaners!

Large enough to accommodate morst  men's apparel and formalwear size of the garment bag along with its full length, sturdy center zipper and the reinforced hanging opening make this black suit garment bag a very useful travel and storage accessory. It is bound to become your most worthy travel companion.

Last but not least, the 6''x6'' square ID window pocket will help you save time and spot your garment bag in an instant by using the pocket to lable your garment bag! 
A Multipurpose Suit And Dress Garment Bag
Apart from being the best single suit travel and storage garment bag, this must-have bag can be used in many different ways. 

It is ideal for storing your leathers, tops, furs, tuxedoes, and many more! 

 
PRACTICAL DESIGN: This garment bag for suits features a  size that in combination with the sturdy, snag-free, full-length center zipper allows you to easily and securely store your suits and dresses and keep them clean and neat even when you travel.
HIGH-QUALITY MATERIAL: This amazing black travel garment bag for suits and dresses is made of rip-resistant, water repellent, soft and breathable material. It is built to last and it promises to protect your garments at all times.
MULTIPURPOSE BAG: You can use this travel garment bag in a variety of different ways. It is perfect for neatly storing your suits, dresses, tops, leathers, tuxedoes, furs, and many more, preserving them in excellent condition. What is more, the 6''x6'' square window pocket allows you to effortlessly organize your apparel and formalwear.
CARRYING YOUR SUITS: Apart from being the best choice for long-term storage, this must-have garment bag is also handy for traveling! Never again leave your favorite suit or dress behind.
SATISFACTION GUARANTEE: Meeting all your demands and keeping you satisfied is our priority. This is why we offer you a full refund in case you are not 100% happy with your purchase.