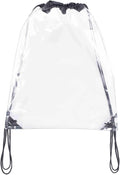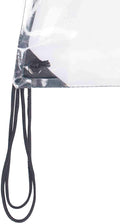 The Perfect Clear Bag For Sporting Events & Other Security Checkpoints!

Don't ever get stuck in security without a good reason again - simply take your stuff inside this small, clear drawstring bag to make their job easier, and your journey faster!

Here's what you're getting:
A small clear drawstring bag 14x17 - perfect size for anything you may need to bring to a stadium!
A clear bag for correctional officer - if you have a correctional officer, this bag helps them see what you're carrying without a problem!
Made with phthalate free plastic; no worries about your health with this small plastic clear bag!
No more long waits at security checkpoints; breeze through them by making the contents of your bag visible!

Grab your new small clear drawstring bag for sporting events today - simply add it to your cart to start speeding through security checkpoints, and getting to your games faster!
Drawstring closure
CLEAR DRAWSTRING BAG - Small, durable, and sturdy. This bag is made to last, giving you space to hold all your stuff and find it easily!
BREEZE THROUGH STADIUM SECURITY - If you're a sports fan going to a game, the last thing you want to do is waste tons of time by having security dig through your normal bags; this clear bag lets you breeze through security!
SMALL CLEAR BAG - 14" width by 17" height, a good size for carrying spare shirts, water bottles, & anything else you may need at a sporting event! Made with Polyester & Vinyl
SMOOTH ENTRY THROUGH SECURITY CHECKPOINTS - In addition to sporting events, you can take this bag for any security checkpoint to speed up your entry time, and get where you're going smoothly!
PHTHALATE FREE - No need to worry about the dangers of phthalate with this bag; it's completely phthalate free for your safety! Contents in picture are not included with the bag.